Graduation

Date: Sunday, June 4, 2023


Time: 9:30am - All learners report (in their gowns!) to Gate #1
Do NOT bring any additional items into the classroom, i.e. purses, backpacks, bags, etc. We will not be returning to this area and you will not be able to carry these items into Graduation.
10:00 a.m. – Gate #2 and Gate #3 doors open for seating
11:00 a.m.—Time the ceremony begins


Location: College Park Center
University of Texas at Arlington
600 S Center Street
Arlington, TX 76019

Parking:
UT Arlington has multiple parking lots adjacent to the College Park Center that offer ample parking for guests. Guests may choose from one of the following options for parking:
Premium Parking: Located across from the main guest entry, premium parking is available in Park South Garage. Cost is $15 at the lot, or $13 if purchased online in advance.

Select Visitor Permit, Visitor- One Day Permit (Garage) $13

Select Parking: Select parking is available in Park Center and Park North Garage, and surface lots in proximity to the arena for $12 per car, or $10 if purchased in advance.

Select Visitor Permit, Visitor - One Day Permit (Student Surface Lots) $9
NOTE:
Lots F13, CN, LCS, and F10 are closes to the GRADUATE entrance
Lots Park South, Park Central, Lot 39, and Lot 38 are closest to the FAMILY entrance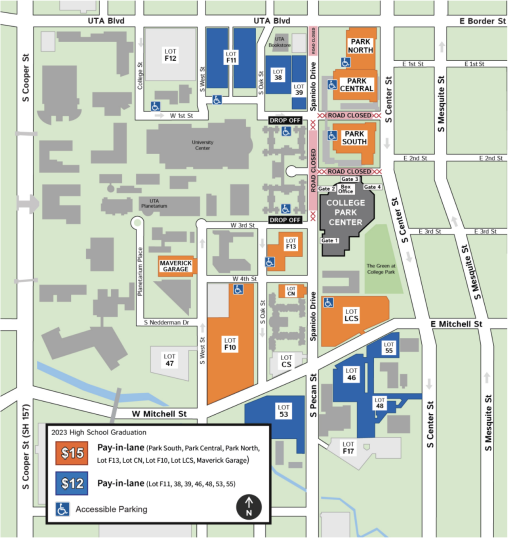 Recommended Dress:
Ladies: Dark dress, slacks, or jeans, dark shoes that can be walked
in easily—no strapless shoes or sneakers!!
Men: Dark slacks or jeans, dark shoes (no sneakers or
sandals!!), a collared white or light-colored shirt, and,
preferably, a tie.
All:
Graduation caps may be decorated and additional regalia worn as long as any wording and imagery is both school appropriate and adheres to the school dress code. Final authority regarding the appropriateness of design and regalia lies with the campus principal. Learners who refuse to adhere to approved standards of dress may be asked to remove certain items, replace their graduation cap, and/or be denied the opportunity to participate at the graduation ceremony.
This is a formal event—please come looking your best!
Prohibited Items
Large Banners and Flags: banners, signs or other items that are affixed to any pole or stick made of wood, metal, plastic or any other hard material and that is more than 18 inches in length.
Whistle, Horns, Foghorns/Airhorns, Plastic horns (vuvuzelas and didgeridoos)
Optical Illusions Item: pinwheels, umbrellas
Weapons: guns and knives
Aerosol Cans
Fireworks
Frisbees
Outside food or drink
Mace or Pepper Spray
Poles, Selfie-sticks, missile-like objects that can be thrown;
Strollers
Tripods
Bats or clubs
Beach balls, Basketballs
Illegal Substances
Glitter or confetti
Balloons
Camera ARE allowed, but no professional lens longer than 3 inches
Purse and Bag Policy
With a goal to enhance public safety and the fan experience at College Park Center, a clear bag policy is in full effect for all events at College Park Center. Bags are subject to inspection before entry. Metal detectors may be used for some events.
APPROVED BAGS:

Plastic Storage Bag: Clear, one (1) gallon re-sealable.Clear Tote Bag: Plastic, vinyl, or PVC and do not exceed 12" x 6" x 12".
Small Clutch Purse: Approximately the size of a hand with or without a handle or strap. No larger than 4.5" x 8.5" with or without a hand or strap. Can be carried separately or within an approved plastic bag.
Medically Necessary Items: Including small diaper bags (with accompanying infant/child) after proper inspection at a gate designated for this purpose.
PROHIBITED BAGS:
Backpacks, large bags, and fanny packs
Purses
Binocular case (may be worn on neck)
Briefcases
Camera or computer bags
Cinch bags
Coolers
Large diaper bags
Seat cushions
Luggage of any kind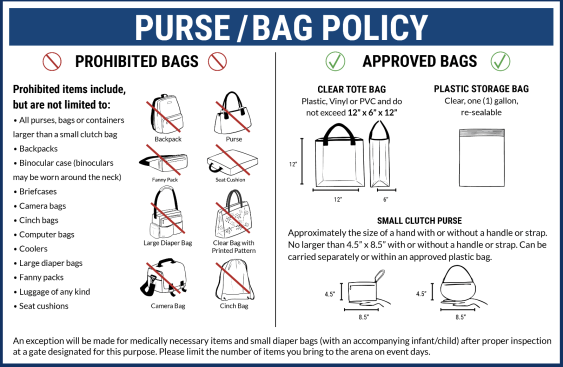 Should someone attempt to enter with any prohibited items, they will be asked to return them to their vehicle or be denied entry to the ceremony.